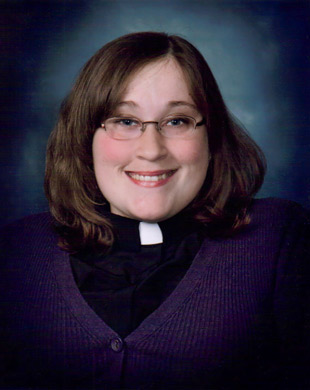 Pastor Lisa Heffernan
Greetings! My name is Lisa Heffernan, and I am the pastor here at Trinity Lutheran Church. It has been a blessing to serve here, first, as interim and now in my first call.
A little bit about myself:
I graduated from Wartburg Theological Seminary in Dubuque, Iowa in May of 2013. My experiences at Wartburg Seminary played a huge part in God's forming me into the pastoral leader I am now. It is a place near and dear to my heart, and is a great institution for building academic, pastoral, and above all, faithful church leaders. I am 27 years old, and grew up in the Faulkton, SD area and attended Concordia College in Moorhead, MN. When I have a bit of free time, I love to read, crochet, and swim. I will also confess to having a soft spot in my heart for all things Irish, and the Lord of the Rings books and films. Having been born with spina bifida, I use a wheelchair to get me around independently.
My mother, Kathy, is a teacher in Gettysburg, SD and my older brother, Tom, has a master's degree in ethnic studies from the University of Minnesota-Mankato. At present, he is serving people with special needs at a group home in the Mankato area. My father, Steve, was an English teacher for about fifteen years. He died a little over nine years ago from MS-related complications. The whole family has been a huge support to me, and I know that they are just as excited for me to serve as your interim pastor as I am.
Trinity is a great place in which to serve, with wonderful people and good ministry happening here. All are welcome to this place as we worship together and serve our community.
In Christ,
Pastor Lisa Heffernan