It was December 1987, and I was just barely 14 months old when my parents and brother took me to visit Santa Claus for the very first time. And like parents would do with any child, I'm sure my parents tried to build up some excitement for me. They wanted me to see that Santa was a good guy, and that I had nothing to fear.
Really, I have no memory of this at all, but the archives at the Prairie Pioneer newspaper in Pollock, SD will have record of that day forever. That record exists in the form of a picture of a wide-eyed, scared, uncertain, one-year-old me sitting on Santa's lap – really unsure of what to think of this pot – bellied old man who wanted me to tell him a little story about what I wanted for Christmas. So in sentences that were probably three words long, I told him! Still afraid, still uncertain. But excited to see him and to tell, I'm sure, everyone I saw for a week after that-in my own toddler way- just how fantastic Santa Claus really was.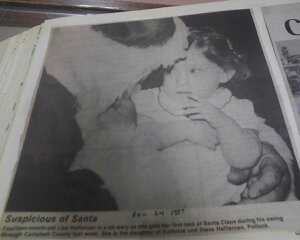 I think back to my first experience with Santa tonight as the story of Jesus' birth rings in our ears, because I can't help but wonder just how afraid Mary, Joseph, and those shepherds were that night, and from the very beginning of it all.
Mary? She was likely little more than a child herself! Unmarried, but engaged to Joseph when the angel visited her to tell her what God was going to accomplish through her. That she would bear a child through the work of the Holy Spirit! Even her relative Elizabeth knew the child would be special. But, in those days, her community would've rejected her; it's possible that her life would even be in danger for having a child outside of marriage. Yes, Mary had to be afraid. And it wouldn't have been any easier for Joseph. Could he trust what had been told him about Mary's child? Could he be the earthly father to this "Savior"? A father to the one whom scriptures foretold would come to save the people of Israel? Joseph? Afraid. And probably shaking in his sandals.
The shepherds have a weird place here, too. Why, their job was to take care of sheep all day! Not only had they gotten the shock of their lives when that heavenly host showed up, but they saw the Christ child themselves! Time to shout to anyone who could hear them that the promised Messiah was born! But…would anyone believe them?
A glimpse of God breaking into the world was what they got. And even in that glimpse, perhaps they too, continued to fear or be anxious about what they had seen and heard. Afraid of what they were now being called to tell everyone about. The funny thing is, they ALL got glimpses of God's work in those days. Through angels, relatives, dreams. God was there with them in those days as they were just trying to figure out what it all meant. Not just for them, but for the world.
This Christmas, we have fears of our own. We spend all of this time trying to make our holiday celebrations perfect, even as we fear having enough money to make it to our next paycheck. We try to smile and be happy, masking fears that we are somehow inadequate. Masking the all- too- real fears that illness, broken hearts, broken families, or uncertainties about where we'll be in a year can bring to the forefront of our minds.
Fear is part of our lives. It just is. We don't like not knowing how things will turn out. We don't like feeling unsafe, or like we can't trust what's actually happening in our lives to the people around us. Fear is real. I'm sure Mary was scared, even just as much as she was faithful. The same goes for Joseph, and even the shepherds. And yet we all hear, "Do not be afraid. I am bringing you good news of great joy that will be for all people". Do not be afraid. I am with you always, to the end of the age. Through battles with disease, or when you don't know how you're going to make this Christmas a great one with little funds. When you feel hopeless and abandoned by everyone, including God, do not be afraid.
At times like that, I want to say "Yeah right, God. I get it, you're here for me. You'll get me through this. But sometimes, I just can't sense you. And that scares me, too". But, that's when I think about all of those folks that night Jesus was born. In different ways, God's presence and faithfulness was made known to them. And in different ways, God's presence and faithfulness ARE made known to us. In bread, wine, and Word. In the communities and families who surround us when we need to experience the love of the body of Christ the most. It's found in our own angels; the people who tell us "Do not fear. This is good news! Jesus the Christ is born tonight—FOR YOU! God won't let you go. Not now. Not ever".
God's presence is most certainly found IN those times when we are most afraid. Taking us by the hand, reminding us that, in Christ, everything will be okay. Encouraging us to move forward, trusting in God's promises made known to us through the life, death, and resurrection of the One whose birth we celebrate tonight and into tomorrow. Encouraging us to go out and tell folks in our own country sides and neighborhoods about this thing that has happened. About the child who was born so that all of those things we are so afraid of won't have control over us.
Those glimpses of God acting in our lives lead us from those things we fear and take us to the manger this night. They take us to the Christ child, where we worship, pray, and give thanks that those things we fear get entrusted and placed right there. They get laid before God, just so that we can get a chance to really be who God has made us: children of God, who have been charged to go and tell about God's glory born in that manger. Imperfect children of God who will fail, who won't always see what God's doing. Who will be afraid of the unknown, and the known things that threaten our lives. But who will be comforted and made anew through the work of that same God.
I was afraid of the unknown on that December day 28-ish years ago. Scared of this guy who would either bring me a toy or bring me a lump of coal. But who also sat there and listened to me, as scared as I was, talk about my hopes for Christmas. Who ended up not being scary anymore, but pretty great instead!
Tonight, I think we're kind of like me on that day. We're like Mary, Joseph, and the shepherds. We get scared. We want to run away from whatever it is that surprises or scares us. But we don't. Instead, we find comfort and such a joy at what we've seen of God that we HAVE to tell somebody about it! And not only that…but we come back!
We come back to this place, and to so many others to hear this story of our Lord's birth again and again. But why? We haven't earned a prize because we've been good. In fact, we haven't really done anything that deserves a reward. But maybe we come back because we see something special here. Maybe we come back because we see this: that the God who declared Israel to be God's children, declares the same thing to us through Christ, the Son. We see that the Christ child, born of Mary, walks with us in our fears, and leads us to places of hope and rejoicing. Of peace, grace, forgiveness. To places where God's perfect love made flesh in Christ is stronger than any fear we could ever imagine. Amen.