Recently, I joked with a Trinity member that I am a "human jukebox" when it comes to liturgical music and hymns (and admittedly, of random '60's, '70's, and '80's rock—thanks, Mom and Dad!). I love the music we get to sing together in our times of worship because much of it is full of scripture and so often speaks well of our relationships with God in Jesus Christ, and with one another. So, regularly, I find myself with a number of hymns stuck in my head throughout the week as I prepare for our Saturday night and Sunday morning services.
There is one hymn we will be singing this weekend that seems to "stick" in my mind the most often, especially in times of transition, like graduation. That particular hymn is entitled "We All Are One In Mission" and some of its words are:
"We all are one in mission; We all are one in call,
Our varied gifts united by Christ the Lord of all…
We all are called to service, to witness in God's name.
Our ministries are different; our purpose is the same…"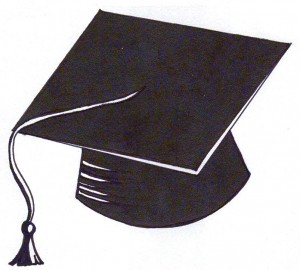 As we sing these words together, I pray its words resonate with all and especially with our graduates and their loved ones. May it be a reminder to them (and to us all) that God has indeed blessed each one of us with unique gifts which we can share with all people.
Our gifts, talents, ministries, et cetera, are certainly all different but can, in their own ways, be used for the good and service of others. Not only that, but our varied gifts work together to share the grace and love of God with those whom we encounter in those acts of service. I encourage everyone to invite our graduates of all ages of this, as they prepare to move on to the next step in their journey.