Gather for Action and Faith – Bible Study
Trinity women study the Bible with the aid of "Gather for Action and Faith," a magazine published 11 times a year.
A new series of studies begins in September – "In Good Company: Stories of Biblical Women."
Company's coming! bible study author Kay Ward, a bishop in The Moravian Church, has invited nine women from the Old Testament, several from the New Testament, and a handful of women she knows to stop in for a visit. They will be companions with us each month, long enough for us to get to know them and to also get to know ourselves a bit better. Their stories will draw us into Bible study, invite us to worship with the Psalms, and give us opportunities to tell our own stories.
Read what the author says about this nine-month Bible Study which begins in September.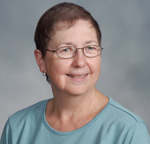 Ward was elected to be bishop in the Moravian Unity in 1998, the first women to be chosen in its 550 years of history. She has served as a parish pastor, and in 2006 retired as professor and administrator of Moravian Theological Seminary in Bethlehem, PA. Kay has written three collections of essays and lives in a log cabin in central Wisconsin. See more at  http://www.womenoftheelca.org/gather-bible-studies-pages-55.php.
This year our lessons will be lead by Cynthia Wall. All women and high school girls are welcome.
Fourth Tuesday, September 24th at 7:30 a.m. at Is It A Vonnie Cake?. Call Marcella Jensen at 234-0200 for more information.
Fourth Wednesday, September 25th at 7:30 p.m. at the home of Rosemary Mohr. Call Rosemary Mohr at 734-4039 for more information.
You can order a "Gather" magazine online, or by calling (800) 328-4648.