Jesus said:
"There will be signs in the sun, the moon, and the stars, and on the earth distress among nations confused by the roaring of the sea and the waves. People will faint from fear and foreboding of what is coming upon the world, for the powers of the heavens will be shaken. Then they will see 'the Son of Man coming in a cloud' with power and great glory."
Luke 21:25-27
Signs are a part of our life. As we drive down a street we encounter stop signs, yield signs, and speed signs. On sale signs are posted in businesses. In a doctor's office we are instructed by a sign to see the receptionist. The word sign plays an important part in Luke's gospel. In Luke 11:29-30 we read: "When the crowds were increasing, Jesus began to say,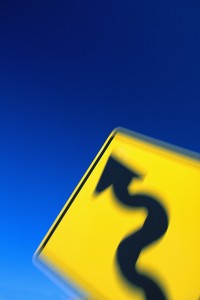 "This generation is an evil generation; it asks for a sign, but no sign will be given to it except the sign of Jonah. For just as Jonah became a sign to the people of Nineveh, so the Son of Man will be to this generation." Jesus is comparing Jonah's three days in the belly of the large fish with the three days he would spend in the tomb. The first use of the word sign in Luke's gospel was spoken by the angels to the shepherds: "This will be a sign for you: you will find a child wrapped in bands of cloth and lying in a manger" (2:12). In chapter 11 we read: "Others, to test him, kept demanding from him a sign from heaven" (vs. 16) not realizing that Jesus was the sign from heaven. So when Jesus talks about the signs in the sun, moon, and the stars we should immediately think of God who sent Jesus to this world. Jesus even mentions that we will see the Son of Man coming. Jesus in this passage was giving hope to those who were suffering. Jesus is not just talking about his future coming but also his coming when ever there are signs of suffering. So when the world trade towers collapsed Jesus came and was present with those who suffered. When hurricanes Sandy struck last month Jesus came and was present with those who suffered. When ever we face a personal disaster Jesus comes and is present with us. The sign mentioned in Luke 2 is that of God coming to earth as a child. That sign still gives us hope for Jesus is still coming to us whenever the earth and we suffer distress.